Stratus Online Reviews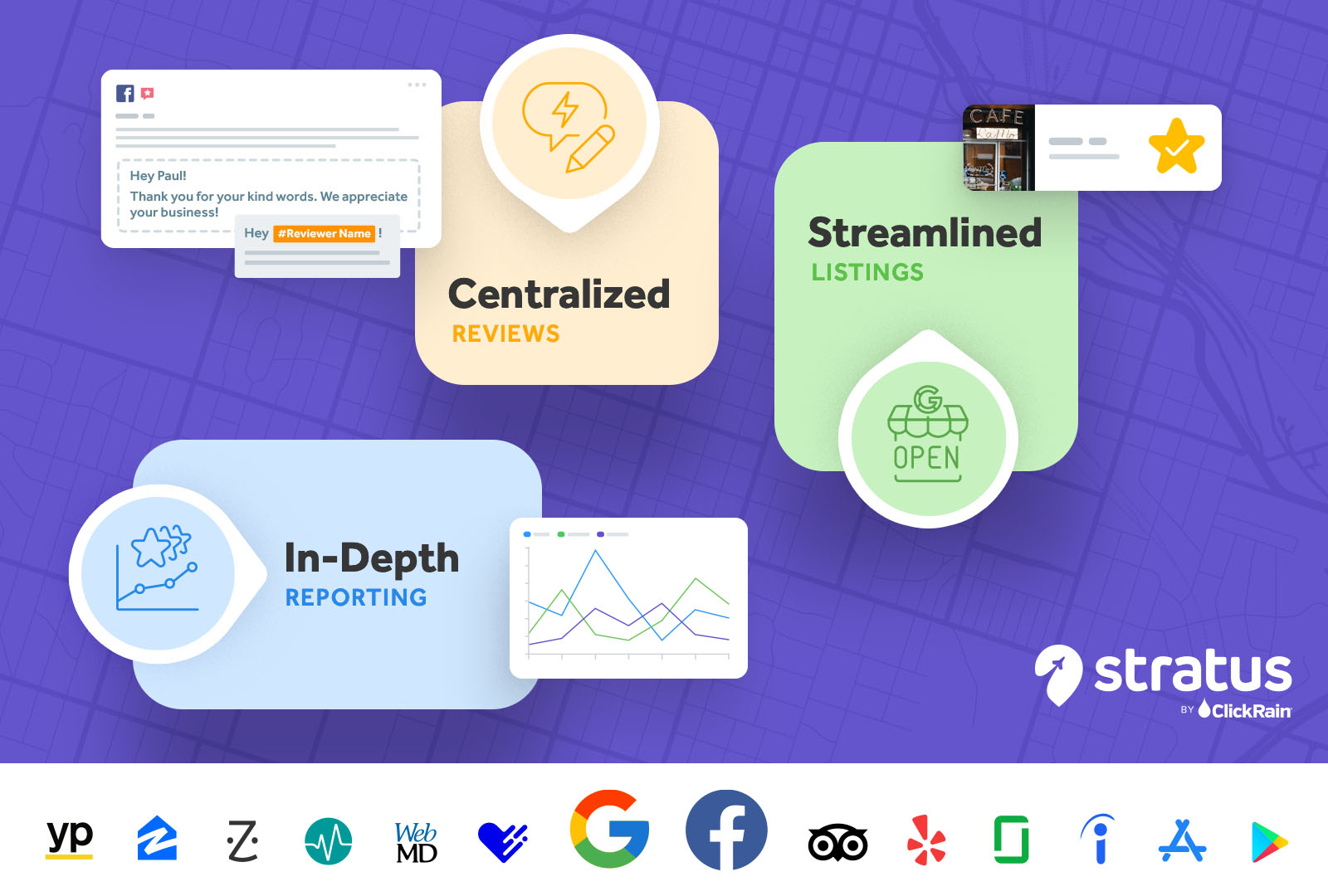 Use your local listing and review info across your website.
With Stratus, you can manage your online listings and reviews from one place. Take control of your online presence with simplified local marketing for all your location, people, and app listings. It's local marketing—simplified.
Syncing review and listing data with our Craft plugin is as simple as creating a Stratus account (we offer a free, 30-day trial), connecting your listings, and then adding your account keys in Craft to connect to Stratus.
Plugin Features
Import all your reviews and automatically sync new ones as they come in.
Display the reputation of a listing overall or at the platform level.
Ability to query and filter reviews by listing, platform, rating, and recommendation.
Display up-to-date location listing details, including address, hours, and holiday hours.
Key Stratus Features
Push updates and reply to Google and Facebook reviews.
Review reply templates with personalization
Generate new reviews with review invite emails and SMS.
Save time with bulk updates across all your listings for changes like holiday hours.
Dashboard reporting
Unlimited users
Supported Platforms
Google
Facebook
Healthgrades
RateMDs
RealSelf
Vitals
WebMD
Zocdoc
Zillow
TripAdvisor
Yellow Pages
Yelp
BBB (Better Business Bureau)
Glassdoor
Indeed
Apple App Store
Google Play Store
Recommended Use Cases
Select the most relevant reviews to show on your website
Display the reviews for a specific location on its details page
On a bio page for a person, list their individual reviews or select just the relevant ones
List your locations and their overall review ratings.
Get Started
Sign up for a free 30-day trial of Stratus (no credit card required).
Setup your Stratus account and connect your listings.
Install our plugin in Craft. Then get your API key and secret by creating a new integration in Stratus. Take your API key and secret and enter those in the plugin settings page within Craft.
Your listings and reviews will then be imported automatically. Whenever a new review or listing shows up in Stratus, they'll be synced with Craft.
Templates and Styling
We provide the data and give you full control over the styling and how you want to present your reviews. There are templating examples and details in the docs to help get you started.
Why Stratus?
Experts in SEO and local listings - Stratus is developed and backed by Click Rain, a digital agency providing web solutions and digital marketing strategies.

Craft Partner - As an agency, we live and breathe Craft. In fact, it's the preferred CMS we use for our clients and we're a proud Craft partner.
Installation Instructions

To install this plugin, copy the command above to your terminal.

Last release

August 7, 2023